[ June 30, 2010 - 12:20pm ]
This trip began two years ago as a brain-child of Noah Howell. Noah had heard vague rumors of a remote, rugged mountain range called the Revelations and had tried to fly in there from Talkeetna but was thwarted by the weather. In the big AK picture, the Revelations are about 140 miles west/northwest of Anchorage and form an almost perfect equidistant triangle between them, Talkeetna and Anchorage. You can fly there from either Talkeetna or Anchorage, although Anchorage has more planes to choose from, better weather and better down-time distractions.
The closest town to the Revelation Mountains is McGrath, which is about 60 miles away. Although I haven't been to them, I have heard the Hidden Mountains near the Tordrillos are also called the Revelations, and although they have great skiing, are not the same as the Revelations we went to.
A big part of visiting the Revelations is getting in touch with Rob Jones of R&R Hunting and Outdoor Adventure. Rob has a hunting lodge right on the Big River at the base of the Revelations and can provide any and all logistical support for your trip. Rob arranged our flight into the glacier with a friend of his, Joe Shoeman, but once we were there we communicated with Rob as far as getting back and doing a gear pick up.
The Revelations, aka the Revs, are at the western tail end of the Alaska Mountain Range. As an overall picture, the AK Range reminds me of a Stegosaurus with Denali/Sultana forming the main high backbone and the Rev's are the much lower, but very spiky tail. The Revs top out at about 9,000 and the glacier is at about 3,500, so it is an area with lots of vertical relief, but not necessarily very high. In my case, we were camping 3,600′ lower than where I live in Park City, so the air was thick and fat.
Based on photos before we left, my initial impression of the Revies was "Hmmm, they look really steep and rugged, maybe too steep and rugged to ski..?" Afterward my opinion didn't changed much, except that there are actually plenty of lines to ski, but you have to sniff them out and go on a good snow year. The 2010 season was supposedly at 60% of normal and we all toasted our brand new skis in the first couple of days. By the end of the trip we were only taking our skis off for rocky sections over 30′ long – otherwise we just plowed through them and pillaged our edges and bases. The Revies reminded me of skiing in Patagonia around the Cerro Torre/Fitzroy area as they both have amazing scenery, but the skiing lines seldom go all the way through to the top of a peak and they have lots of ice.
The camping opportunities were plentiful with flat, sheltered areas all over. One of the trickier parts was finding snow that was deep enough to dig a cook tent (2-3 feet) as we'd often hit ice about 18″ down. Going too far down the glacier would be problematic for camping as the glacier gets really rocky and icy.
We ended up skiing about 12 distinct lines in the area and most of them were great fun. They may or may not have been skied before and the locations are listed below. Many of the names in the Revelations (including the Revelation name itself) came from an early climbing party led by David Roberts who attached biblical references to everything. We stayed with that theme and added some creative spelling.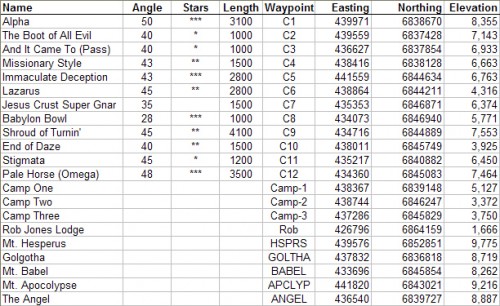 We were a party of four (Noah Howell, Jim Harris, Courtney Phillips and myself, Andrew McLean) which worked out well. According to Rob Jones, this area is one of the most remote spots in Alaska as far as population is concerned. We didn't see anyone else while we were out there, nor any signs of previous parties. It's a lonely corner of the AK range!
We looked at the possibility of traversing out of the head of the main Revelation glacier to the south, and although it could be done with a rappel or two, it is pretty sporty and not something you'd want to do with heavy loads and sleds.
All in all, it was a fantastic place to visit and a first-class adventure. Highly recommended, but then again, I say that about most ski mountaineering areas… ;)
A big thanks goes out to Mountain Hardwear, Backcountry.com, Dynafit, K2, Black Diamond and the Hans Saari Memorial Grant for all the great gear and helping make this trip happen.
Click here for a Revelation Mountains photo gallery from our trip.
Check out more from Andrew McLeann here